The pleasure and passion of photography for me is in the challenge of seeing. It isn't about special equipment or technology, and I do not enhance or fictionalize my images. Whatever photograph of mine you are looking at, you would have seen that image too, exactly as I had, if you had been there with me at that moment.
Whether it is the broad texture of a landscape, or the unique details of reflected light on the curve of a vintage truck, I am always looking for new ways to see the world around me.
My interest in photography began in my teens, though the only cameras I had were a drugstore 110 Instamatic that I got for Christmas one year, and my mother's old Kodak Brownie, which actually took excellent pictures. But it wasn't until I was 24 that I could afford to get my first camera, a 35mm Minolta with no automatic settings. I chose this intentionally so that I would have no choice but to understand exactly how cameras worked, and in turn have control over the images I wanted. Any failures would then be mine to learn from.
With the addition of a few necessary lenses, this is the only camera I used for the next 20 years. And by keeping my equipment simple I could stay true to my need for authenticity and visual discovery. This practice still holds true for me today, even though I did come into the 21st century a couple of years ago and now appreciate my digital cameras.
Those of you who have known my photography over the last two decades will recognize some old favourites, but most of the images here are recent ones.
I have found, above all else, that photography is almost always about Light - Waiting for it, working with it, sometimes chasing it. But if you are unwilling to get out of bed before dawn on a cold Fall morning yourself, or aren't keen on swerving perilously onto the narrow shoulder of a road at the sight of some picture-worthy rock face, then I am quite happy to do it for you.


Exhibits and sales
The first time I showed any of my photographs in public was 1986 while attending the Guelph Hillside Music Festival. Friends looked over some photos I had brought with me from my recent move to the west coast and urged me to hang a few of them up in the artist area of the festival media tent – with clothes pegs on sagging ropes strung between two poles.
For the next ten years I sold framed enlargements and cards in numerous juried art markets and artisan fairs throughout the Lower Mainland, Victoria, Saltspring Island and at the B.C. ferry terminals. I no longer do this type of selling, but I enjoyed it very much, loved talking with people about photography and always felt immensely encouraged in those early days by their generous comments. I also held several community solo exhibitions.
I have participated in juried art shows with the Canadian Association for Photographic Art (formerly NAPA) in Richmond, Burnaby and New Westminster, and won a spot with the year-long national travelling exhibition associated with the CAPA annual Camera Canada College. I have two book covers with Raincoast Books/Polestar.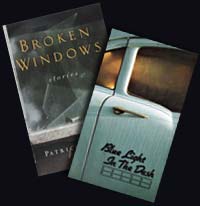 Book Cover Art
Blue Light in the Dash
; poems by Brenda Brooks, Polestar/Raincoast Books, Vancouver.
Broken Windows
; short stories by Patricia Nolan, Polestar/Raincoast Books, Vancouver.
to top